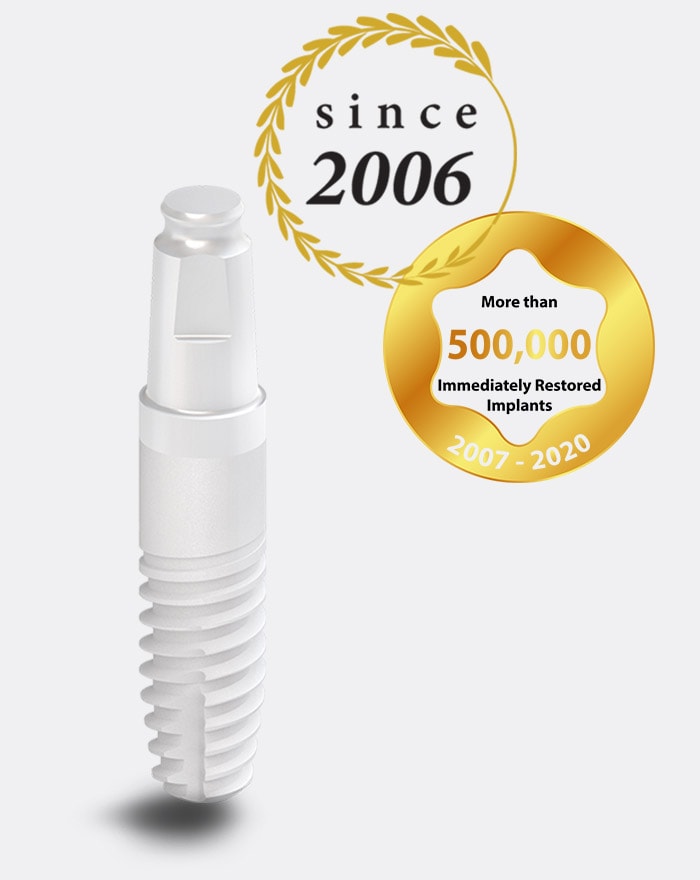 Patients demand aesthetics
Patients demands for aesthetics are increasing together with the growing acceptance and use of implantology in large sections of the population as the best solution for replacing extracted teeth. Attitudes towards dentists are slowly changing in patients' minds. The idea of a place where painful teeth are repaired is fading and its place being taken by the idea of the dentist as a health manager who also has a significant influence on the appearance and well-being of the teeth.
whiteSKY zirconia implants offer reliable aesthetic results
In this context, the whiteSKY zirconia implants offer new opportunities for offering demanding patients high quality and, above all, aesthetic dental restorations. Their appearance will not be affected by dark shades, even in cases of extremely thin gingiva.
Special features
For highly aesthetic restoration of the front teeth or for immediate restoration-scientifically proven and established in practise. Since zirconia does not have any metallic properties, whiteSKY is also the perfect solution for patients with sensitivity to metals.

Osseointegration of zirconia and titanium surfaces
A study at the University of Dresden 2 showed very good results with regard to the osseointegration of whiteSKY zirconia implants. The regenerated bone can clearly be seen (left picture) , as can the direct attachment of osteoblasts (right picture) to the surface.
2 Stadlinger B. et al.: Comparison of zirconia and titanium implants after a short healing period. A pilot study in minipigs; International Journal of Oral Maxillofacial Surgery 2010; 39; 585 – 592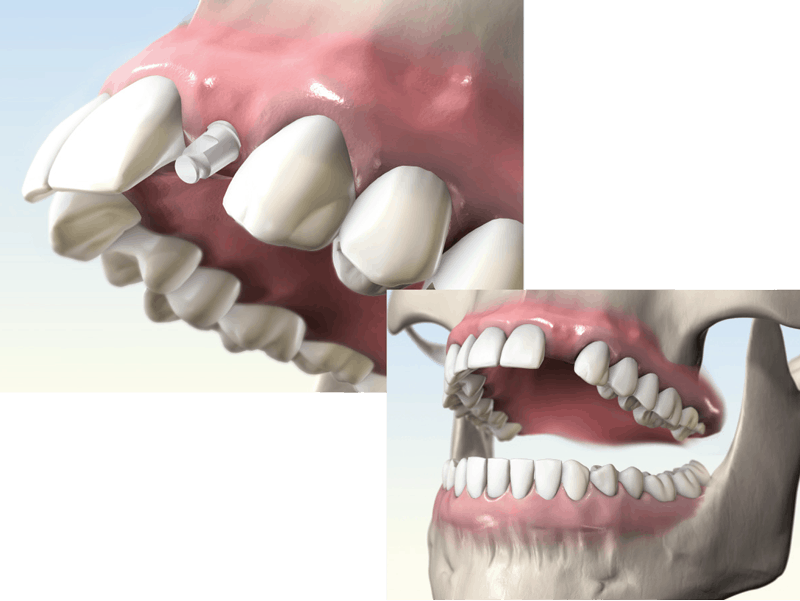 Because the whiteSKY zirconia implant is a one-piece implant, particular attention must be paid to the healing phase.
Therefore, we recommend using the implant in situations where it is protected by the adjacent teeth during the healing phase. The implant should not be subjected to functional loading during the healing phase.
As a general rule, two-stage augmentative measures should be used with the whiteSKY implants.
In large gaps, each missing tooth should be replaced with a whiteSKY zirconia implant to prevent excessive loading of the implant.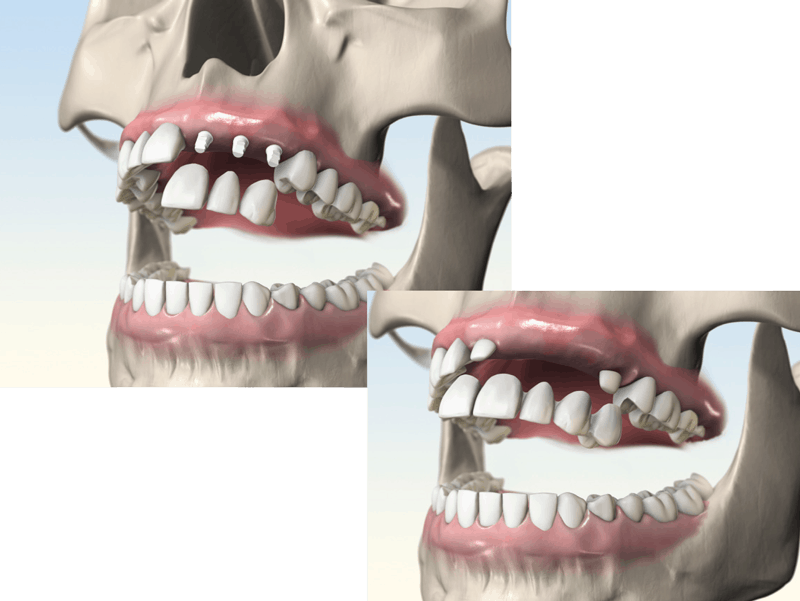 In free-end situations, in addition to small bridges, there is also the option of creating a block using our reduced-diameter miniSKY implants and the natural tooth in order to protect the whiteSKY implant against unwanted heavy loads. In such cases, it is not necessary to make a bridge.
There have been several reports from users who have successfully treated patients with edentulous jaws by immediately blocking the implants. It is important, however, that the blocking remains tension-free.
"After more than 10 years of experience with the bredent medical whiteSKY zirconia implant, scientifically sound long-term results can be presented for the first time together with the University of Milan. Ceramic as a material is not new to implantology, and over the past decade, this version of zirconia implants has earned itself a good reputation. Demanding results especially in the aesthetic zone are possible, caring for patients with an allergic disposition to metals protects their health and the risk of peri-implantitis is almost eliminated. These advantages more than offset the somewhat higher requirements for one-piece implants until final osseointegration. The long-term results clearly confirm this. All implanted implants are still in perfect working order today. In particular, the stable peri-implant bone level, healthy gums and patient satisfaction should be emphasised. There have been no cases of peri-implantitis in the implants placed and implant fractures have not been observed over the years."
Dr. Andrea Enrico Borgonovo
Italy
"I always recommend bredent medical's whiteSKY when patients request a ceramic implant restoration. With more than 12 years experience and long-term results spanning more than 10 years, it is one of the most studied ceramic implants in the world and gives me the confidence to make my patients happy."
Dr. Raquel Zita Gomes
Portugal