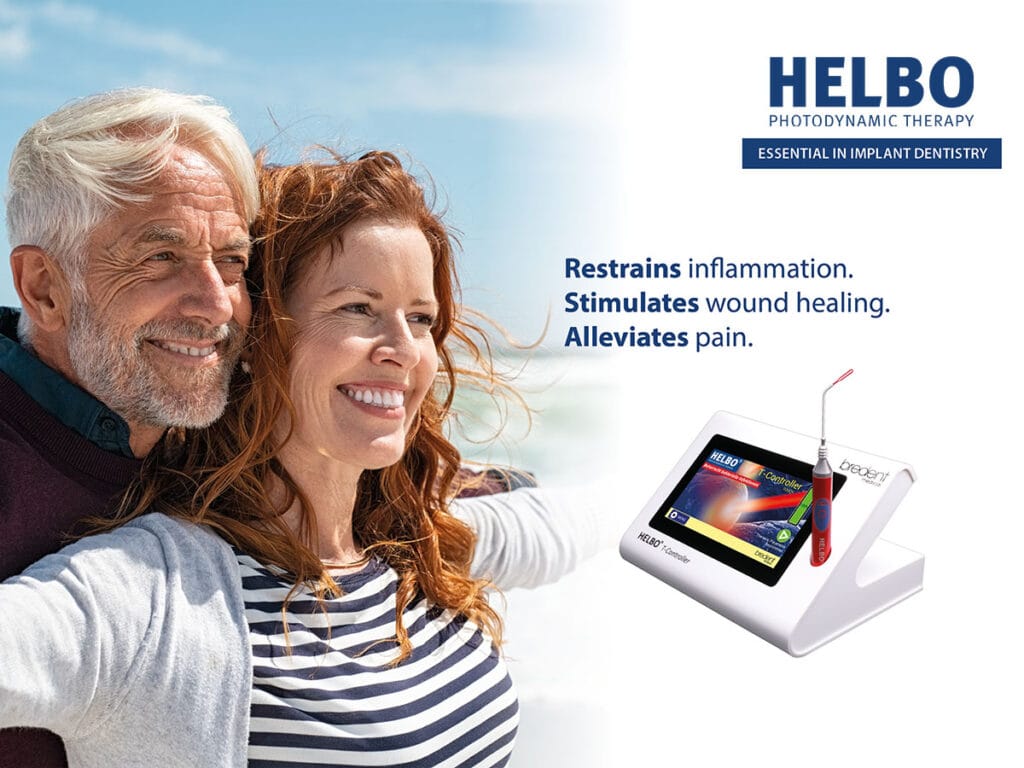 Scientifically proven since 1997
Successful bacterial and biofilm management in the oral cavity is the key to long-term tooth and implant retention and overall health. Numerous studies support the effectiveness and safety of HELBO antimicrobial photodynamic therapy (aPDT). Its effect is biologically supported by low-level laser therapy (LLLT) with the HELBO laser.
HELBO therapy
Efficient, gentle & effective
HELBO supports the preservation of natural teeth or implants and general oral health. The therapy destroys significantly pathogenic bacteria in oral dysbiosis and thus helps restore physiological balance. Using low-energy laser light also stimulates the body's regeneration processes. This leads to the resolution of inflammation, improved wound healing and pain reduction.
Mucositis? Peri-implantitis?
Your panacea is HELBO!
Secures immediacy
workflows in implantology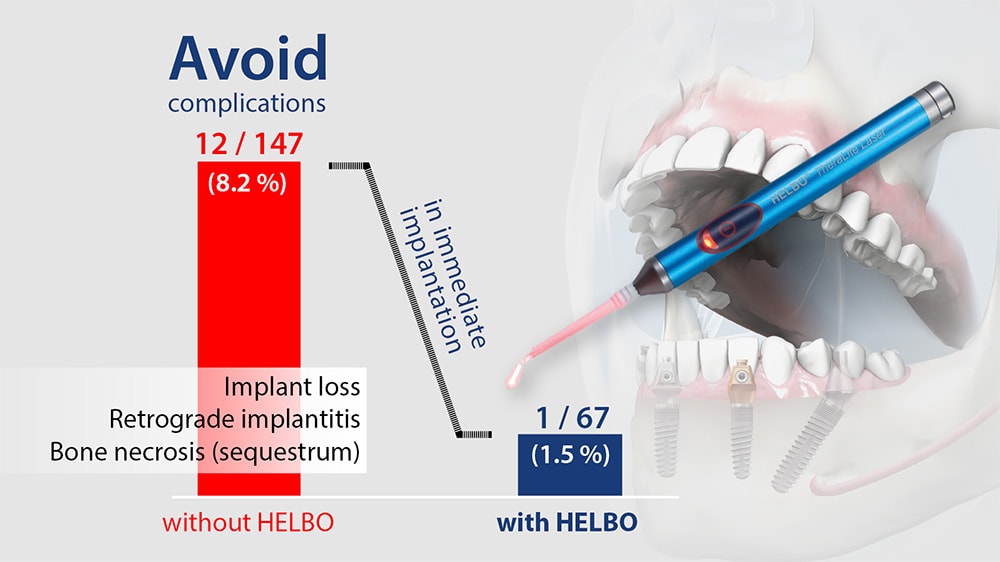 Source: Jörg Neugebauer et al. Poster 353, 20th Annual Scientific Meeting EAO, Ocotber 2011
"Immediate implant placement with immediate loading is made more predictable with HELBO therapy, especially in infected sockets"
Prof. Dr. Rita Singh
Kathmandu, Nepal
"HELBO is an invaluable adjuvant tool that I use in almost all areas of dentistry when decontamination and an optimized working condition are required to improve oral health. For instance, HELBO supports my surgical regenerative treatments of peri-implantitis for its long-term clinical benefits. I have found in a controlled study, that the adjuvant HELBO treatment resulted in more stable clinical parameters and a reduction of peri-implant inflammation-markers. A small risk-free effort with great benefits, especially if you consider that these positive effects are maintained at least up to four years later."
Dr. Dragana Rakašević
Belgrad, Serbia
"Helbo therapy has become a crucial step in my decontamination protocol of biofilm-contaminated implants during the surgical treatment of peri-implantitis. The first medium-term results of my study hereto were presented at the EAO congress in 2022 and show a lasting clinical benefit on the peri-implant bone levels, which remained stable after 5 years from the surgical regenerative therapy!"
Dr. Pier Paolo Poli
Milan, Italy
"I consistently apply HELBO therapy as the primary therapy after subgingival instrumentation in patients presenting with peri-implant mucositis. The results are very satisfactory: clinical signs of inflammation diminish very quickly and together with oral health tuition, irreversible peri-implantitis can be avoided."
Dr. Amandine Para
Paris, France
"As a worldwide ambassador for the SKY fast & fixed immediate restorations in digital workflow, I can guarantee my patients temporary restorations in just one day. This also implies that tissues are preserved and stabilized, and that we can achieve high soft tissue aesthetics. To maintain the success rate of more than 99%, it is, however, crucial to avoid common bacterially caused complications. HELBO aPDT gives me this security, especially when periodontally compromised teeth need to be extracted, allows me to offer this economic implant option to more patients and reliably saves me from corrective surgery in recall."
Dr. Florian Obadan
Alexandria, Romania
"With our studies, we could prove, that immediate implants placed in periodontally infected postextraction sockets show significantly better bone quality and quantity when previously treated with HELBO aPDT as compared to mechanical treatment alone! Even in aggressive periodontal cases, we were able to scientifically demonstrate very positive effects in terms of clinical signs of inflammation and pocket depths. The microbiological analysis also showed a significant decrease in the number of pathogenic bacteria."
Prof. Dr. Arthur Novaes
Sao Paolo, Brasil
"I was very relieved that with the HELBO system, I had finally found a valuable treatment option for many of my chronic stomatology patients, especially with medication-refractory oral lichen planus, burning mouth syndrome or oral mucositis. Besides fighting pain and inflammation symptoms, HELBO dual aPDT and photobiomodulation therapy also actually supports the healing of the oral lesions and this without side-effects; a real game changer! It is no surprise that 660nm low-level-laser therapy is also recommended internationally by MASCC/ISOO for the prevention of severe oral mucositis in head-and-neck oncotherapy patients."
Prof. Dr. Pía María-Jornet Lopez
Murcia, Spain
"I am an advocate for slow dentistry which implies providing the best possible care to the benefit of everyone and build up trust with my patients. Hereto, it is very important to use a clean and predictable environment. That is why at my Smilistic dental office, we work with bredent medical CleanImplant-certified implants and the HELBO system for single tooth up to full-arch restorations."
Dr. Samy Kettinger
Budapest, Hungary
"HELBO is an integral part of the surgical protocols at our multi-specialty clinic, OPUS DENTAL SPECIALITIES. As our practice mainly caters to Immediate Implant Placements & restorations the use of HELBO antibacterial photodynamic therapy gives me the safety of a predictable outcome with infection control. However, we use it extensively for all other applications like treatment of peri-implantitis, endodontic lesions, dry sockets as well as periodontal infections and find it an extremely useful adjunct treatment protocol"
Dr. Burzin Kahn
Mumbai, India
"As a key opinion leader in laser dentistry and long-term user, I consider the HELBO system as my little helper, whenever I worry about inflammatory and wound healing complications. I combine several laser devices in my daily practice, but based on the scientific evidence for aPDT and photobiomodulation, HELBO is the best choice and consistently gives me reliable outcomes. Besides that, it is a very user-friendly device, easily implemented and applied everywhere, even in the field"
Dr. Adriana Barylyak
Lviv, Ukraine
"In our clinic, surgical procedures are carried out as standard with the support of HELBO – we simply don't have time for complications, especially with immediate implantations."
Dr. Stephan Ryssel
Crailsheim, Germany
"Systemic antibiotics, which are still routinely used in periodontology, clearly present the risk of bacterial resistance development. As a result, diseased teeth and implants become increasingly difficult to heal and maintain. Locally applied measures, e.g. HELBO therapy, are helpful: the data shows that this therapy is just as effective as locally appied antibiotics. From my point of view, the great advantage is that it has no side effects or antimicrobial resistance problems."
Prof. Dr. Ralf Rössler
DTMD, Luxembourg
"HELBO therapy has been an absolute necessity for me in implantology and oral surgery for 20 years now. HELBO helps me avoid complications by immediate implantations and augmentations, especially in high-risk patients. Peri-implantitis therapy without aPDT is not conceivable at our practice."
Prof. Dr. Jörg Neugebauer
Landsberg a. Lech, Germany
"High-quality, microscope-supported endodontics is an important pillar for the long-term preservation of teeth in our practice. In addition to careful preparation and filling with a tight closure, disinfection with HELBO is an important intermediate step for successful treatment, which we cannot and do not want to do without!"
Dr. Carolyn Kowalski
Hamburg, Germany
"For me for since over 20 years the most successful form of therapy when it comes to periodontitis and periimplantitis. Considering the increasing resistance to antibiotics worldwide, aPDT is one of the most tissue-sparing treatments for any age and without contraindications. Easy to apply for any prophylaxis assistant."
Elisabeth Köhler
Eichgraben, Austria
"Medication-associated bone necrosis and now also COVID-19-associated wound healing disorders represent serious complications for patients that are challenging for the practitioner. The aim of therapy is to achieve the fastest possible healing or reliable wound closure. Antimicrobial photodynamic HELBO therapy in combination with HELBO softlaser therapy can avoid the above-mentioned complications or can be deployed later as adjuvant therapy. The sterile components of the HELBO system are approved for use in the surgical field, which in my opinion is a mandatory requirement."
Dr. Sigurd Hafner
Munich, Germany
"For more than 20 years, HELBO antimicrobial photodynamic therapy has been a fundamental part of the various treatment procedures in our practice. Not only in the main indications of periodontology, implantology and oral surgery, but also in the field of endodontics and mucosal findings such as aphthae, lichen and fungal lesions, adjunctive aPDT shows excellent results and generates great patient satisfaction."
Dr. Ulrich Fürst
Attnang-Puchheim, Austria
"Our practice has been successfully using the HELBO laser for over 18 years! The range of indications is diverse and the laser class of the HELBO device allows for its delegation to trained personnel. For example, our doctors primarily use the HELBO laser in surgery and my dental hygienist colleagues and I use it in our Perio-patients. As a convinced user, the patient reponse and the great clinical results delight me time and again. Efficacy without pain and without side effects – that's what pleases everyone!"
DH Vesna Braun
Appenweier, Germany
"Photodynamics has occupied a firm position in laser dentistry as a reliable antimicrobial therapy for many years and therefore also in our clinic. Particularly because the use of antibiotics as a therapy adjunct should be subject to a strict indication based on the worldwide problem with resistances, photodynamics in many cases offers a scientifically proven local antimicrobial alternative to support classic therapeutic approaches."
Prof. Dr. Andreas Braun
Aachen, Germany
Advantages that
will convince you!